Please stay tuned for new posts on the Kansas Weddings Magazine Blog!  Each month we will feature a unique wedding or engagement related story submitted by Kansas Weddings Magazine Ambassadors from around the state.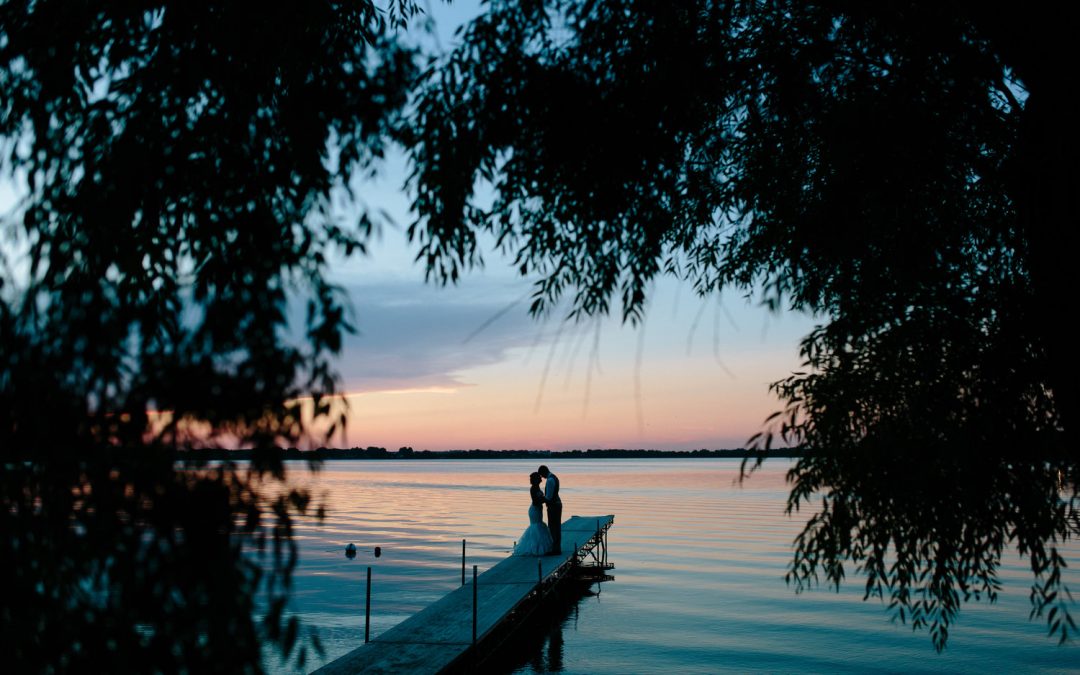 By Kelly Gibson, from Manhattan Magazine, Summer 2017
Manhattan Magazine: A recently engaged couple approaches you to shoot their wedding. What should the couple have prepared for their first meeting with you? What questions should they ask?
Josh Hicks: Shelby and I have been handling our photography business in a unique way the past couple of years. Instead of having clients come prepared with questions upon questions, we just simply ask our clients to bring their real, true and genuine personalities to the table. We love getting to know our clients' hearts, passions and zeal for life over all. We want to know what makes them spark. Then we can connect on wedding dates, locations, etc. But our main goal of this business is to capture a real, genuine story for our clients. To us, it isn't about the most epic portrait, but rather it is about the emotions and the events that unravel on their day, and we believe that starts with getting to know them on a personal level first and foremost.
MM: What are your favorite wedding moments to photograph? Why?
JH: Real, in-the-life moments. When emotions shine through photographs without any words or captions needed, those are the real moments we strive for.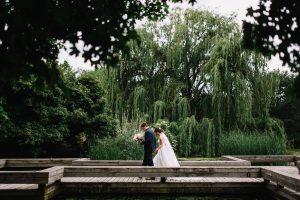 MM: Talk about the dynamic of shooting weddings with your spouse. How is that experience? Has it changed the way you photograph?
JH: Shelby and I overall complement each other really well. Shelby sees the intricate details of the day and of the moments, while I am able to creatively make composition work in portraits. Our strengths work together excellently to capture the images desired by our clients, while strengthening our own weaknesses by working alongside each other.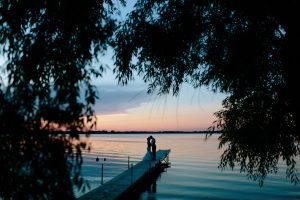 MM: What was the most rewarding wedding you've shot? Tell me about why it was moving or powerful.
JH: We had a client contact us. Her mother was just unexpectedly given a couple months to live. This client and fiancé were planning a small wedding day to be cherished with all their loved ones present. She was inquiring about wedding photography and did not have a budget for her day. Our favorite part about our motives? Working with clients especially through the hard times in life, so onward we went.
With the bride and her mother cherishing moments together on her mother's hospice bed to the moment her mother was able to stretch out into a wheelchair for the first time in many days, to the tears and moments that were captured amidst the family portraits as they touched their mother for one of the last times and the love that was so strongly and powerfully experienced by all present – that day was one of the most genuine, real, emotion filled day we have ever experienced and ever captured. Being able to deliver photographs that were handed over just days after her mother passed is such an incredible thing. To give moments for a family to cherish for a lifetime stretches beyond words. We would never take back that experience we cherished with this couple.  Moments triumph over money, and emotions conquer posed portraits.
MM: Do you keep in touch with your couples?
JH: Absolutely. We love that part of our business. Many of our clients reach out again for maternity and family photos. We are able to treat them to coffee or dinner every once in a while, and we love being continuously engaged in their lives.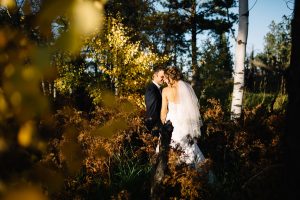 MM: How long have you been married? Tell me about your wedding? Favorite moment? What would you change about the day if you could?
JH: We have been married for almost a year. Our wedding day was a small, meaningful day tucked back in the Rocky Mountains. Our favorite moment? Our day had lots of little favorite moments. Waking up the day of, in one of our favorite, most magical places and being surrounded by people whom we genuinely love and care for. It was a personal day where we were able to intimately focus on what the day is supposed to be about. We would not change one thing about our day. We let it flow organically, pouring out our love for each other and the small handful of guests present in the best way we possibly could.
MM: Do you have any advice for couples on their big day?
JH: Not to get carried away in the stress and expectations, but to enjoy the simple moments. Breathe in the smallest of memories and just be yourself, taking it all in as the day goes on.
See more of Josh and Shelby's work here:  http://www.joshhicksphoto.com/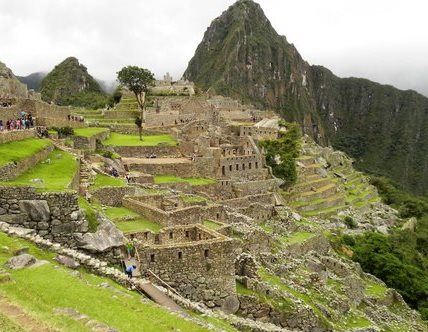 By Bev Falley
Planning the honeymoon is often one of the last things couples do after all of the wedding details are finalized. And often, when the stress of the wedding production is over, the main objective of the honeymoon trip is just to relax. Most often, this means going to a beautiful beach resort with an all-inclusive plan and a swim-up pool bar and spending a week being thoroughly pampered. While this scenario is an excellent and very popular choice for new couples, you may want to consider some other options when thinking about planning your perfect first trip as a married couple. If your group of friends includes newlyweds, most likely you know people who have honeymooned at one of these all-inclusive beach resorts. And, most likely, they had a wonderful experience. But, what if you are imagining something truly unique for your honeymoon? Maybe a destination that had not been considered, but somewhere that would stand apart from the "usual" and create memories for a lifetime. Here are just a few suggestions.
EUROPE
A honeymoon in one of the European capitals is an ideal choice for couples who want to venture a bit further and have at least a week to spend. Paris is known as the City of Love. If your imagination takes you to strolling along the avenues, eating croissants while watching people in a sidewalk café or visiting iconic landmarks like the Eiffel Tower and the Louvre Museum, this is a honeymoon dream.
Rome is an absolutely amazing modern city set amongst the ancient ruins of the Coliseum and the Forum. Exploring the narrow winding streets and, of course, tossing coins in the Trevi Fountain are just the beginning. And Venice, with its canals and gondolas, is the perfect backdrop for romance.
These cities are excellent starting points for day trips to other areas of the country as well. If you prefer the countryside to the city, there are amazing villas in Provence in the south of France and Tuscany or Umbria in Italy. And of course, the Italian Amalfi Coast and the French Rivera are filled with boutique hotels that offer amazing Views of the sea and intimate accommodations.
Another wonderful European honeymoon destination is Ireland. The beauty of the countryside and the amazing Irish people provide an opportunity to celebrate your marriage with spirits, music and smiles. Ireland has a number of medieval castles that have been converted into world-class hotels, and spending a few days at one of these amazing properties can truly make you feel like a prince and princess! The compact area of this beautiful Emerald Isle makes it easy to see a lot of the country in a short time, whether on a guided trip with a local host or on your own with a car and vouchers for B&B stays. Either way, you are guaranteed to meet wonderful locals who will be eager to help you celebrate the next leg your new life adventure!
SMALL SHIP CRUISING
Cruises are always popular for honeymoons. But, what if you want to expand that concept to something more unique and memorable? For example, a cruise through the Greek Islands takes you to such seaside ports as Mykonos, Santorini, Patmos, Crete and Rhodes. The navy blue waters of the Mediterranean, the cobblestone alleyways of the villages and the white stone domed buildings overlooking the sea are romantic destinations full of "postcard" photo ops.
Cruises to the Greek Islands, the Black Sea, Scandinavia and Tahiti (to name a few) are best enjoyed on a small ship or yacht. These provide an entirely different experience than the mega ships, which are virtual "sailing cities," accommodating up to 5,400 people at one time. Small ships normally carry fewer than 200 people and are able to reach smaller ports, inaccessible to the large ships. This allows cruise companies to create much more interesting itineraries to picturesque locations all over the world. The atmosphere on board is relaxed and friendly. Because the ratio of staff to passenger is very small, you always receive amazing service and you feel like a guest on a private vessel. These small ship cruises are perfect for couples considering a cruise but wanting an intimate, unique experience.
EXOTIC DESTINATIONS
If you have more time to spend and want to do something truly unforgettable, you may want to consider an exotic honeymoon. For example, an African Safari! There is nothing more amazing than getting up close to the giant elephants, elegant giraffes, mystic cheetahs, zebras, rhinos, hippos and other native species. The most popular destinations for these types of trips are Kenya, Tanzania, South Africa and Zimbabwe. Or try Uganda and Rwanda to catch the Mountain Gorillas. Paying a visit to these beautiful beasts in their natural habitat is something that few of us have an opportunity to experience in our lifetimes.
After a full day observing wildlife, you return to your camp to be treated to some of the most unique accommodations you can imagine. The tented camps in these areas are unbelievable properties, some of which are listed in major travel publications such as Conde Nast Traveler and National Geographic Traveler among the world's best hotels, offering first-class dining and service located in the middle of the African wilderness.
For the more adventurous couple, a trip to Patagonia is truly a trip to "the ends of the earth." Beginning with a stay in the South American Metropolis of Santiago or Buenos Aires, travel to the tip of the Continent to witness glaciers, pristine lakes, caverns and wildlife. Truly amazing!
THE BEACH… BEYOND THE CARIBBEAN
Still thinking about a beach, but want to venture a bit further and see something more exotic than Mexico or Jamaica? Consider the storybook tropical paradise of Tahiti or Bora Bora, with uncrowded white sand beaches and a bungalow over the water. Or, the famous beaches of Australia, unsurpassed for surfing and water sports. The beaches of Indonesia and Thailand are considered the most beautiful in the world and offer the best experiences in diving, dining and world-class service. And scattered among the islands in the Mediterranean, Agean and Ionian Seas are many unique and truly amazing beach destinations.
The possibilities for an amazing honeymoon are unlimited! So, when thinking about the perfect place to start your life together, let your imagination soar beyond the typical, to a place that is truly unique to the two of you.
Bev Falley is an experienced travel consultant with Island Dreams Travel in Lawrence. Island Dreams Travel [LINK: www.islanddreamstvl.com] has specialized in honeymoons for more than 30 years and works closely with couples and partners across the world to create beautiful vacation experiences guaranteed to result in lasting memories throughout your lifetime together.
Lawrence-based wedding photographer Hallie Sigwing was born and raised in a tiny farm town outside of Wichita. As she tells it, when she began her career with her mother's old film camera at the age of 15, she had no idea what she was doing. "I would literally just tell people to buy some Kodak 400 at Walgreens and meet me in random wheat fields around my hometown," she says. "I was shooting film when it wasn't cool!" Only a year after that, a family friend insisted that she shoot their wedding. "I was totally hesitant, but she wouldn't take no for an answer." So began Hallie's career in wedding photography.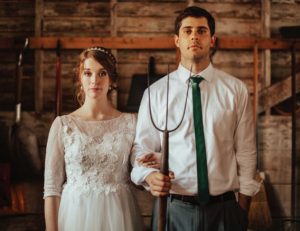 WHAT MAKES PHOTOGRAPHING KANSAS WEDDINGS UNIQUE?  Kansas weddings are wonderful because there is so much room for versatility. If you're shooting in a big city, you're very limited with the sort of settings you can place your couples in. You're dealing with a lot of people, and shadows, and cars. It's very hard to get a broad range of images when you're working with such a limited environment. In Kansas, even in the heart of the cities, you're never farther than twenty minutes from some beautiful scenery.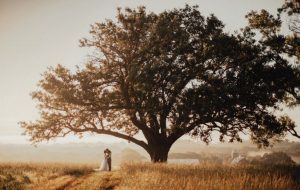 WHAT IS YOUR FAVORITE LIGHT TO SHOOT IN?  Sunrise! Hands down. If only I could get more of my couples to wake up that early for me. I've thought about doing a discount for sunrise engagement sessions because I love them so much.
WHAT'S YOUR SECRET FOR GETTING A COUPLE TO RELAX?  It always astonishes me how little time people get to spend alone on their wedding day. Like, you're surrounded by people all day long, from the moment you wake up. I always want my couples to feel like our portrait time is a time for them to take a deep breath, soak in the day's events, and remind each other of why they are there. I ask a lot of questions and have them talk to each other. I also make it a point to meet with my couples several times for drinks or dinner before their wedding day. The secret is getting the guys to feel comfortable around you—and make them feel confident that you aren't going to make them look silly or cheesy. Once you get the grooms to feel comfortable around your camera, everything else is a breeze.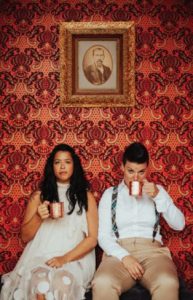 WHAT ADVICE DO YOU HAVE FOR COUPLES SEEKING A WEDDING PHOTOGRAPHER?  Find someone that you feel like you could be friends with. You're going to spend so many hours with this person. My brides are around me more than anyone else on their wedding day, usually. I think for most of my couples, I really am a big part of how they experience their day. I think not connecting emotionally with your photographer translates into the images.
WHAT IS YOUR DREAM DESTINATION, IN KANSAS, TO SHOOT NEWLYWEDS?  I've been seeing a lot of people shooting at the Monument Rocks in western Kansas, lately. I would love to shoot there. I think my dream scenario will always be on a farm, at sunrise. I always feel so inspired by family farms and I never tire of photographing them.
See more of Hallie's work here: http://www.halliesigwing.com/
–from Lawrence Magazine, summer 2017